Maybe you're one of those guys who still collect MP3s. When sharing them, you never know which files are new to you each time.
MP3Get helps here. It not only shows the MP3s owned by someone else and lets you select them for download, it also memorizes which songs you didn't want to have. Next time, they won't be shown again, no matter if you meet the same person or another one next time.
So you only see the files that are new for you since the last time you shared, even if many people are involved.
Screenshot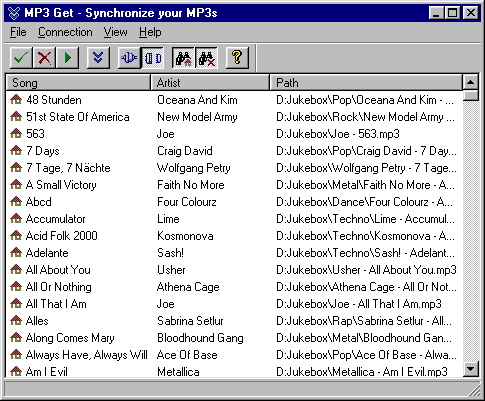 The image shows an overview of your own songs, resp. the songs of another person.
When connected to another person, you can select the songs to be copied to your own computer here.
You can also ban songs here.
Platforms
Windows 10, Windows 8.1, Windows Server (but older versions Windows systems as well)
Download and purchase
You can freely download MP3Get to test it. Please take note of the Terms and Conditions, also contained in the download package.
However, MP3Get is shareware. After the trial period, I have to beg you to purchase a key code for 9.95 Euros (or the equivalent in your local currency). From the 2nd license on, you get 20% discount.
Note: All prices are end-consumer prices. There are no shipping costs.
Feedback
Found a bug? Any suggestions for improval?
You can use the web tool improve! to give me some feedback.
Comments, suggestions, questions? Just write me a message.